We are super excited to share the highlights of our latest update, which added many highly requested financing and loan features to DealCheck!
With these new improvements, you should be able to analyze many more creative financing and loan strategies with our analysis tools:
Add Multiple Purchase Loans
You can now add multiple purchase loans to each property and analyze scenarios with different forms of financing.
This is great for when you're using a HELOC loan to finance your down payment, when you have different loans for the purchase and rehab of a property, or when the seller is providing additional financing to you.
Analyze Balloon Payment Loans
We've added support for amortizing loans with balloon payments and different amortization periods, as well as balloon payments on interest-only loans.
This should help you analyze deals with commercial financing, and see how balloon payments will affect your future cash flow and returns.

Customize Loans With More Flexibility
You can now configure each loan to finance the purchase price, rehab costs, purchase price and rehab costs, or the ARV of each property.
We've also made it easier to enter either a down payment or an LTC/LTV percentage of each loan to match your lender's requirements.
And finally, you can now customize the compound interval of amortizing loans, and set them to compound monthly, quarterly or semi-annually – useful for analyzing loans in other countries, like Canada.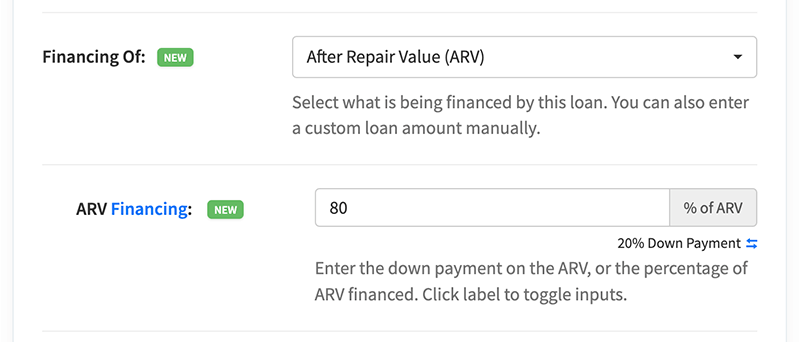 We can't wait for you to give all of these new financing features a try!
As always, let us know if you have any questions or feedback, and don't forget to update our iOS or Android app to the latest version as soon as possible.
SHARE THIS POST