Besides finding a great rental property that will deliver consistent, positive cash flow for years to come, finding high-quality tenants is probably the next priority on the list for becoming a successful landlord.
A good tenant is more likely to pay their rent on time, abide by the lease terms, take care of your property and promptly report any maintenance issues that need attention. On the flip side, a bad tenant is more likely to miss payment deadlines, violate lease policies and cause additional wear and tear on your property.
It's obvious that finding good, high-quality tenants will reduce your headaches as a landlord, help keep your property in good condition and increase your cash flow in the long-term.
This is especially important for do-it-yourself (DIY) landlords who cannot rely on a professional property management company to do this for them.
Whether you own just one or several rentals, here are 6 tips that will improve your chances of finding high-quality tenants for your properties:
Tip #1 – Write Down Your Tenant Criteria
It's hard to screen potential tenants if you don't have specific, written criteria to screen them with.
Not only can you post this criteria in your rental ads to reduce the amount of unqualified tenants that apply, but you can also use it yourself when looking over potential rental applications.
The specifics of your criteria will come down to personal preference and experience, but here are the most important things you should consider:
What is the rent you're going to charge your tenants?
What are the security deposit and any other fees you're going to charge?
Do you allow pets? If so, are there any restrictions or additional charges?
What is your policy on past evictions and bankruptcies?
Do you have any income requirements?
Don't be afraid to revise and update your criteria as you become more experienced with being a landlord and finding good tenants!
Tip #2 – Advertise Your Rental Online
It may be tempting to offer your rental to a friend, family member, coworker or even the first random person who happens to be interested.
But posting your rental listing on websites like Hotpads and Zillow will bring in many more potential applicants, who are more likely to fit your criteria than the small circle of people you personally know.
Creating rental listings is usually free and takes just a few minutes. Don't forget to write a nice description of your property, upload several high-quality photos and include the tenant criteria you wrote down earlier.
Tip #3 – Ask Potential Tenants to Fill Out a Rental Application
Each tenant who passes your initial screening should be asked to fill out a rental application. This will help you collect additional information from them in writing and give you the authorization to conduct a background and credit check.
A rental application also makes you look more professional and shows tenants that you're serious about the screening process – something that can deter unqualified tenants from even applying.
You can use an online property management solution like Avail to handle the rental applications for you or create them yourself. A good rule of thumb is to ask at least the following questions:
The full name of the tenant, as well as all other adults who will be living at the property with them
Contact information for current and prior employers, going back 5 years
Contact information for current and prior landlords, going back 5 years
Authorization to conduct a background and credit check of the tenant
Make sure to collect a rental application from each adult who will be listed on the lease and be financially responsible for paying the rent.
Tip #4 – Verify How Many People Will Be Living in Your Property
This was already mentioned above, but it's worth bringing it up one more time. When talking to potential tenants, don't forget to ask them exactly how many adults and children will be living at your property.
It's not uncommon in certain areas to lease your property to one person, only to find that there are multiple people living there. Most states have a requirement of no more than 2 people per bedroom, so you don't want to be violating your local landlord laws.
Ask each potential tenant to write down the names or each person that will be living with them on their rental application.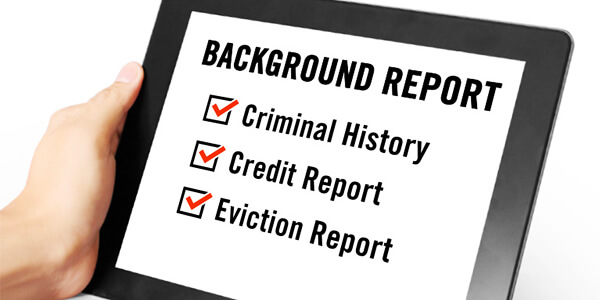 Tip #5 – Conduct a Criminal Background Check
A nationwide criminal background check can help you identify past offenses committed by tenants and help you watch out for red flags.
You may not want to rent your property to convicted felons or registered sex offenders and it's not against the law in most states to deny their application if these offenses are found on their criminal background check.
Furthermore, it's important to keep in mind that if a violent criminal or sex offender commits a crime against the neighbors while living at your property, you may be considered liable in some cases.
Tip #6 – Pull Each Tenant's Credit Report
Pulling a tenant's credit report will show you three things. First, you'll get their credit score, which is a general indication of their creditworthiness and financial responsibility. You may reconsider taking on a tenant if their score is below 550.
Second, you'll be able to see how much debt the potential tenant has and what their monthly debt payments are. If the applicant has a lot of debt, and especially if the debt payments are over a third of their monthly income, it may once again be a sign of financial instability.
And lastly, a credit report will show you the tenant's payment history on their credit cards and loans and give you an idea for how often they've missed payments in the past. Somebody who has a history of missed loan payments may start missing the rent payments as well.
Screening Tenants with the Avail Property Management Platform
If you understand the importance of screening your tenants but are not sure where to start, Avail offers a comprehensive online platform designed specifically for DIY landlords.

It can not only help you advertise your rental properties, collect rental applications and run background and credit checks, but also sign lease agreements, collect rent and respond to maintenance requests.
Read their excellent, in-depth guide on finding high-quality tenants right here or create a free account to try Avail for yourself.
SHARE THIS POST